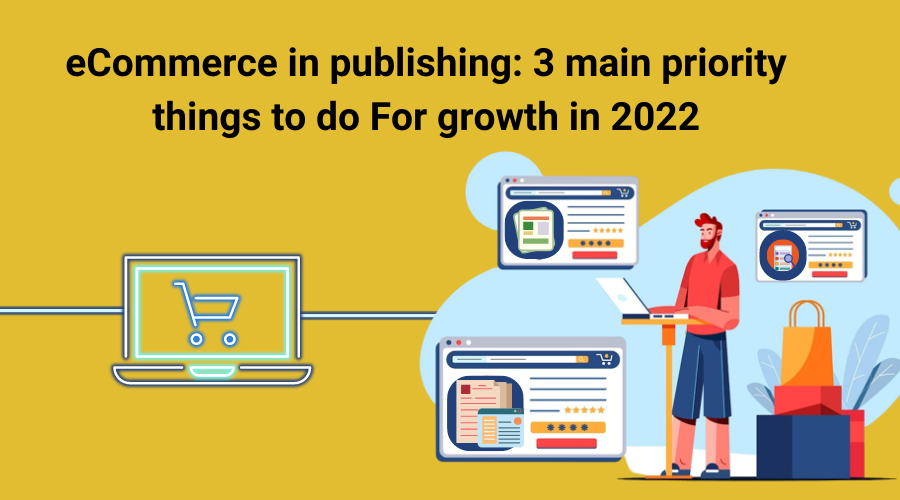 eCommerce in Publishing
Various publishers have already begun to see the benefits that might be gained through eCommerce. On the other hand, the expansion of the subscription business, in conjunction with the shifting consumer habits that came about during the COVID period – and the possibility that these habits will continue – has pushed additional media companies to join the eCommerce fold.
The Wall Street Journal made the announcement that it was going to debut a commerce offering in December of 2021. The offering was going to be centered on providing audiences with product and service suggestions. In the meanwhile, businesses like Meredith and Future continue to generate increased earnings from their online commerce operations
It should come as no surprise that more publishers are questioning whether or not eCommerce is a good fit for their companies in light of the fact that customers are spending more money on eCommerce, that media players are becoming more engaged, and that consumers' preferences regarding how they shop online are continually developing.
Keeping this in mind, the following are three essential aspects that publishers should keep in mind if they are intending to move into this market or enhance their participation in it.
1.Cultural and content compatibility : eCommerce in Publishing
The first question that publishing companies need to ask themselves is whether or not eCommerce is a good match for their particular brand(s) or audience(s). While there are certain verticals (reviews, travel, food, etc.) in which online shopping is a more natural extension to this output, there are others (such as shopping) in which it will not work for all titles.
In this context, publishers are addressing what Jonah Peretti, founder and CEO of BuzzFeed, described in 2020 as the "attribution crisis" facing the media.
Peretti made the observation that some "content providers supply the motivation to buy a new product, go on a vacation, or watch a new programme – but don't collect much of the economic value produced." This is because customers, after being appropriately motivated by what they have read or seen, go elsewhere to make the purchases that they have been inspired to make.
According to Peretti, "We see a tremendous possibility for us to regain some of that profit," which is a statement that might potentially apply to a significant portion of the business as a whole, not just BuzzFee Things that are logical brand extensions, ones that build on the next steps a customer may already have been preparing to take, are perhaps the greatest kind of products to sell via an online store.
As an example, Future plc experienced more than 1.6 million sales transactions and $137 million in eCommerce sales in North America between the 18th of November and the 1st of December 2021. This span of time encompassed both Black Friday and Cyber Monday. A significant portion of this was driven by audiences visiting their websites already intending to make a purchase.
According to a press statement, "Technology magazines at Future," which include Tom's Guide and TechRadar, "had a 21% increase in page views and produced the biggest sales throughout the Black Friday weekend," when the most popular goods were gaming devices, PCs, and laptops.
Along the same lines, brand expansions like Tasty's relationships with Walmart have been reasonable excursions for BuzzFeed to take. The films and recipes that an audience has watched may have sparked an interest in them, and as a result, the next step is to make it simpler for them to purchase the materials and utensils that they need in order to do this at home.
In a similar vein, Trusted Media Brands' decision to launch kitchenware and bakeware – as well as a monthly basis subscription box – based all over their Taste of Home publication, and Marie Claire's Beauty Drawer (an "editorially approved bespoke beauty sampling service"), feel like natural continuations of the consumer journey. Both of these initiatives were undertaken by Trusted Media Brands. The cultural connection that viewers already have with these media makes these changes a natural and appropriate fit.
2.eCommerce :Application Challenges and Barriers
The concept of cultural fit extends beyond simple brand alignment and the customer experience. It also has the ability to impact employment processes throughout the company, the sorts of partnerships you get into, as well as components of your editorial offer that need to be rethought.
Many of the executives in charge of eCommerce operations at various publishers come from a technical, sales, or product background. They are only seldom seen outside of the newsroom. This illustrates the sorts of abilities and expertise that are often required to develop effective eCommerce initiatives. [Citation needed]
Hearst made the announcement in January 2022 that April Lane would be taking over as the company's chief eCommerce officer. Prior to that, Lane had worked for Amazon for a little under a dozen years.
This came after it was reported in December 2021 that Hearst was planning to open "The Tower," a premium eCommerce platform, in the Spring of 2022. This endeavour is being spearheaded by Ken Downing, a veteran of the fashion and retail industries who was recently promoted to the position of chief brand executive of Hearst Luxury Collection Commerce. The move will include online articles from Elle, Bazaar, Town & Country, and Esquire.
In addition to widening their team by hiring employees with a wider variety of business, user experience (UX), and marketing capabilities, publishers may also need to walk a fine line when it comes to editorial decisions.
"discussion of maximizing conversions versus content are still battle words for several editors and will always raise issues about the integrity of content choices," according to a story that was published in Folio in 2019 on affiliate marketing, which is only one aspect of eCommerce.
Because eCommerce has the potential to challenge church and state traditions, there needs to be clarity – for both newsrooms and audiences – regarding how eCommerce may shape editorial decision making and the nature of any potential financial relationships. This clarity is necessary because eCommerce has the potential to challenge church and state traditions.
The formation of partnerships is yet another area that should be given significant attention by publishing companies. This may be accomplished in a wide variety of ways, ranging from the provision of technology through the execution of fulfillment.
A portion of these endeavors are created in-house in some capacity. According to Abi Watson, a senior research analyst at Enders Analysis, who spoke with Digiday, Future is able "to create practically quick revenue growth" as a result of the company's unique technology stack. At its core is Hawk, a tool that does instantaneous price comparisons of goods offered for sale by vendors located all over the internet.
Last but not least, there is an acknowledgment that publishers have to strike a balance between their editorial goal and their financial interests. In example, there is a possibility that inundating customers with a large number of messages and affiliate links might be off-putting. On the other hand, there are other websites where there is an excessive amount of material (for example, fashion or reviews), which may have the same impact and decrease the chance of an online purchase being made.
This problem does not have a simple answer that can be applied universally. Because the sweet spot will be different depending on the publication and the vertical, measurements and statistics are an essential component of these efforts.
3.Changeable Conditions Caused by Technological Developments
It is now simpler for us to make purchases online than it has ever been before since eCommerce is becoming more integrated throughout all of our media experiences. This provides publishers and the people who create content with a number of obstacles as well as possibilities.
The potential danger posed by social commerce and the ability to make purchases on social networks, both on desktop and via applications, on websites such as Instagram, Pinterest, and Facebook is perhaps the most visible of these threats.
According to the most recent Statista Digital Economy Compass, those who have access to the internet spend, on average, 142 minutes per day engaging in activities related to social networks. Despite the fact that this number is lower than it was one year ago (by three minutes), it is still a significant amount of time each day.
According to projections made by eMarketer, revenues generated by social commerce in the United States would increase by 35.8% in 2021, reaching a total of $36.62 billion. This market is likely too large for publishers to ignore. It is not only the responsibility of businesses and influencers but also of media firms to investigate the possibilities for eCommerce on each of these many social networks.
However, in the study Media Moments 2021, Chris Sutcliffe issued the following warning: "It is incumbent upon the traditional publishers to ensure that they do not become over-reliant on those platforms for eCommerce and affiliate income as they formerly were for advertising revenue."
While this is going on, a number of social networks are also demonstrating their editorial prowess. While in October 2021, Pinterest announced that they will be collaborating with advertisers and artists to create Pinterest TV, a series of live, original and shoppable episodes on the network, Amazon launched its own TV shopping channel Amazon Live in 2019.
This article contains a significant portion of the kind of information that has been a fixture of magazines and shopping channels on cable television for many years. There is a possibility that digital platforms may take a bite out of the income that these have created.
This image was provided by Pinterest and demonstrates how Pinterest TV appears.
Additionally, publishers need to be aware of other tech-driven changes that may have an effect on the eCommerce efforts they are making. One of them is the modification of the search algorithm used by Google.
The corporation made the decision in December to modify the ranking system that is used for product review sites. These measures, although ostensibly intended to eliminate "false" reviews and promote "genuine" and high-quality material, have the potential to have a knock-on impact on publishers.
In addition to the possibility that the ranking of information on Google Search could shift, it is also possible that publishers and the partners with whom they work will need to adjust their practices. Google said in this case that "people have informed us that they trust reviews with proof of things really being tested, and that they want to have more alternatives to buy the product."
"provide evidence such as visual elements, audio, or other links of your own experience with the product, to help your expertise and reinforce the authenticity of your review," the search giant determined as a result that the best practises should henceforth: "include links to multiple sellers to give the reader the option to purchase from their merchant of choice," and "provide evidence such as visual elements, audio, or other links of your own experience with the product, to support your expertise and strengthen the authenticity of your review."
The focus placed on connections to numerous suppliers may be of use to publishers like as Future, who prominently display pricing comparisons on several of their websites. In the late 2020s, they also completed the purchase of the proprietor of the pricing comparison website known as Go Compare.
This purchase offered a number of potential benefits, including a new avenue for late revenues, strengthening their tech stack and consumer data, as well as creating new content opportunities for editorial authored around the types of products that are featured on the GoCompare website, such as broadband providers, car and home insurance, mortgages, and other financial services. One of the potential benefits of this purchase was the creation of new content opportunities for editorial written around the types of products that are featured on the GoCompare website.
Sovrn Holdings, who co-sponsored this report and acquired Monetizer101 in the summer of 2021, has also argued that these kinds of tools can drive more eCommerce revenue for publishers who use them. Monetizer101 is a price and merchant comparison shopping solutions provider for publishers such as Mail Online, TI Media, and The Telegraph.
They stated in a blog post that was published at the tail end of the previous year that "price comparisons can provide up to 179% higher earnings per click and up to 200% more click – throughs and conversions." They also mentioned that "traditional affiliate links are limited, because they can only promote one vendor at a time." The consequence of this is that "if the product seems to be out of stock or the pricing isn't competitive, the customer will shop somewhere – and you'll lose out on the money."