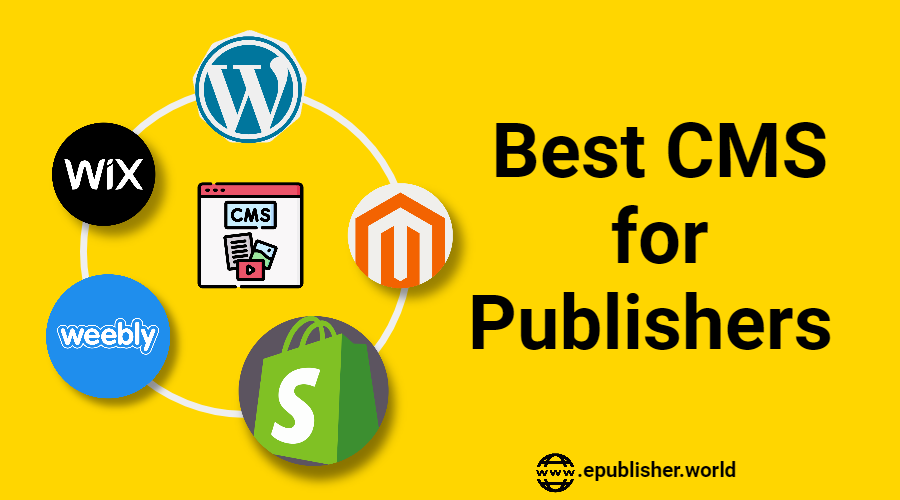 Top 5 Best CMS Platforms For Publishers
The criteria we used to evaluate the platforms included: ease of use, flexibility, price, scalability, security, and support. Based on our findings, we concluded the best overall CMS for publishers by comparing the platform's ease of use, flexibility, and scalability. However, each platform has its own strengths and weaknesses, so be sure to evaluate your needs before making a decision.
As a publisher, you need to be able to manage content on your website in order to provide valuable information and entertainment to your readers and customers. Fortunately, there are many platforms designed specifically for CMS for small businesses and CMS for publishers with options that range from basic text editors to full-featured solutions with ecommerce capabilities and everything in between.
This guide will cover the top CMS platforms out there, including popular options like WordPress, Drupal, Shopify, Squarespace, and more. You'll also find expert tips on choosing the right CMS platform for your business based on your specific needs and requirements.
What is CMS Benefits of a Content Management System
A content management system (CMS) is a software application or set of related programs that are used to create and manage digital content. CMSes are typically used for enterprise content management (ECM) and web content management (WCM).
ECM is a set of processes and technologies that are used to capture, store, index, preserve, transform, and deliver information.
WCM is the use of a CMS to create and manage Digital content for publication on a website. Cms publishing can help you provide your audience with an engaging user experience across all devices.
The criteria we used to evaluate the platforms included: ease of use, flexibility, price, scalability, security, and support.
Based on our findings, we concluded the best overall CMS for publishers by comparing the platform's ease of use, flexibility, and scalability. However, each platform has its own strengths and weaknesses, so be sure to evaluate your needs before making a decision.
Top 5 Content Management Systems
WordPress is one of the most popular Content Management Systems (CMS) available today. And for good reason it's free, open source, and very user friendly. If you're looking for a CMS that's easy to use and has a large community of developers who can help you if you get stuck, WordPress is a great choice.
Joomla! is another popular open source CMS that's easy to use and extend. If you need more control over your content than what WordPress offers, Joomla! is a good option. It also has a large community of developers and support forums where you can get help if you need it.
Drupal is yet another popular open source CMS. Like Joomla!, Drupal gives you lots of flexibility and control over your site. But its interface isn't as intuitive as some other systems, so if ease-of-use is a priority for you, this might not be the best system for you.
Magento eCommerce Platform also makes it easy to create an online store with an intuitive interface. Magento is great if running an ecommerce site or managing product catalogs are priorities for you.
It's powerful enough to power even big sites like Gap or Nike but still simple enough for smaller businesses too. CMS Forest runs on the WordPress platform.
We believe it provides our clients with the perfect balance between what they want and what they need. What they want is a solid foundation which we provide in order to make their business successful; what they need is an affordable solution which we provide because price matters in today's world.
How to Choose The Best CMS
There are a lot of different Content Management Systems (CMS) out there, and it can be tough to decide which one is right for your website. Here are some things to consider when choosing a CMS:
How easy is it to use? You don't want to spend hours trying to figure out how to add or edit content on your site. Look for a CMS that is user friendly and has a good help section.
What kind of features does it have? Make sure the CMS has all the features you need, such as the ability to add images, videos, and links.
How much does it cost? Some CMS platforms are free, while others can be quite expensive. Be sure to get quotes from several providers before making a decision so you know what's best for your business budget.
What level of support does it offer? If something goes wrong with your site, will you be able to reach someone who can fix the problem? It's important to know what kind of customer service is available with each platform before deciding which one is best for you.
Is it compatible with other software? For example, if you're using an ecommerce system like Shopify, will this CMS work with Shopify too? What about using WordPress and Google Analytics together–will they work well together too? Or do they conflict with each other in any way? The more compatible two programs are, the easier they'll work together without any problems. And that means less frustration for you!
Top 5 CMS Platforms comparison pros and cons
1. WordPress:
1) WordPress–a popular option that's very easy to use and offers a ton of great features. Plus, there's plenty of support available at any time via email or phone if anything goes wrong with your site.
And it's completely free! But if you want even more customization options than what WordPress offers by default, then this may not be the right choice for you.
The WordPress platform allows you to create a site of any scope and scale (online store, auction site, membership site, etc).
Pros :
Not knowing how to code or use a computer is not a prerequisite. WordPress's block editor streamlines the process of making visually appealing web pages.You are free to use whatever method you choose to monetize your website.
WordPress has a huge community and a huge ecosystem, with hundreds of commercial and free plugins and themes available.
These let you expand your site's functionality by including features like a contact form, an image gallery, and more.
SEO-friendly features abound in the WordPress platform (SEO). Post permalinks, categorization, and tagging may all be optimized for search engines with little effort on your part. There are several SEO search engine optimization plugins available.
Due to its high level of customization, WordPress is a great content management system (CMS) for novices and experts alike.
If you decide to switch systems in the future, WordPress makes it simple by allowing you to export your data in XML format.
Cons :
You'll have to register a domain name, set up web hosting, and handle administrative tasks like backing up your data.
Starting off with WordPress might be intimidating due to the sheer number of features and customization choices it provides. This is why a lot of newcomers to WordPress utilize plugins that allow them to easily create and edit pages by dragging and dropping elements.
2. Wix
2)wix-another popular option that includes an intuitive dashboard where everything is clearly laid out for users to understand.
pros :
Wix's drag-and-drop editor makes it simple to design websites that reflect the aesthetic vision of the user.
When editing, you may begin making changes to your page at any point by selecting the area you want to modify.
Wix provides a wide variety of pre-made themes from which to build your website.
These look fantastic on desktops and mobile devices alike thanks to their responsive design.
Wix's App Market provides a wide variety of useful extensions for your website. These function similarly to WordPress plugins in that they provide functionality to your site.
Cons :
Wix doesn't let you switch templates once you've picked one. As a result, you may be forced to choose a design that isn't optimal for your site.
If you don't pay for a premium Wix plan, you won't be able to collect credit card payments or establish an online shop.
Wix does not facilitate the downloading or exporting of your information. Your blog posts (but not your photos) may be downloaded for the migration, but the pages on your site will need to be copied and pasted by hand.
The free plan includes the use of a Wix-branded domain name and display advertisements. Wix profits from the adverts, not you.
3. Magento
3)to : intuitive CMS that makes it easy to customize your Ecommerce site without needing any coding knowledge
Pros :
Magento is extensible in many ways; for example, there are many third-party modules you may utilize to implement new capabilities.
Magento is capable of handling a large number of items and consumers. Easy scalability means that your firm can expand without sacrificing user experience. (You may need to purchase a more advanced hosting package, however.)
Numerous well-known companies, such as Nike, Ford, and Coca-Cola, have used Magento.
Magento is flexible in that it supports integration with several payment processors. In addition, it has several payment methods built in, such as PayPal, cash on delivery, and bank transfer.
Cons :
Getting out within eCommerce, Magento may seem like a lot to take on.
Finding and hiring programmers for Magento projects may be challenging and costly.
Leveraging Magento Free Software and depending on online support forums might result in a wide range of support options.
4. Shopify
4)Shopify : Another platform is designed specifically for online stores and ecommerce sites, and it offers a ton of useful features to help you sell more products and make more money! It's really easy to use as well, so you can have your store up and running in no time.
Pros :
Shopify's built-in payment method, Shopify Transactions, allows you to take credit and debit card payments. Shopify includes PayPal as a built-in payment option.
Shopify has a large number of add-ons and templates to choose from. Shopify applications sold by third-party developers extend the functionality of your online business in a wide variety of ways.
When compared to BigCommerce, there is no sales threshold at which an upgrade becomes necessary.
Cons:
Adding a large number of third-party applications to your shop might significantly increase your expenditures.
The features you seek may not already exist. Shopify's app selection is more restricted than those of platforms like WordPress.
6. Weebly
When compared to other website builders, the majority of people will find that Weebly is easier to use since signing up for a Weebly account is all that is required to get started using the platform.
Because Weebly is a website builder that uses a drag-and-drop interface, you do not need any knowledge of HTML to get started. You very literally simply choose a topic, and then you start constructing things:
You may add items to your site by dragging and dropping photographs, text boxes, and other components. The process of editing, resizing, and moving your items is also quite straightforward. I timed it, and it takes less than a minute to make an account and get started using the service after signing up for it.
However, in order to begin constructing your site using WordPress.org, you will first need to go through certain setup procedures.
Installing WordPress and purchasing website hosting as well as a domain name are the first steps you will need to do. Although it may seem intimidating, the majority of WordPress providers really make the installation process quite simple since so many people use WordPress.
In point of fact, you can install WordPress with just a few clicks on the majority of reputable hosting' websites. (There is further information on the specific steps to take at the end of this piece.)
After that, in order to make a fantastic website, you will need to decide on a theme and educate yourself about plugins. Plugins, in their most basic form, allow you to add functionality to your website. You may find plugins that do everything, from building a basic contact form to opening an online shop.
The main editor for WordPress is not a visual editor that allows users to drag and drop elements like Weebly does. On the other hand, there is an abundance of high-quality page builder plugins available, many of which enable you to construct your content via the use of a drag-and-drop interface.
FAQ'S (Frequently Asked Questions)
What's the most popular CMS system currently?
There's no clear cut answer when it comes to the most popular CMS system. However, based on our expert comparison, the three top contenders are WordPress, Joomla!, and Drupal. Each has its own strengths and weaknesses, so it really depends on your specific needs as a publisher. 

For example, if you're looking for the best user-friendly CMS, WordPress might be your best bet. If you need a CMS that's highly customizable and scalable, then Drupal could be a better fit.
Why is WordPress the best CMS?
1. WordPress is free and open source software released under the GPL.

2. WordPress is used by millions of people around the world, including many large organizations, such as The Guardian, Forbes, and The New York Times.

3. WordPress is a very versatile platform and can be used for a wide variety of websites and applications.

4. WordPress has a large community of developers and users who contribute to its development and support its users.
Is HTML and CSS better than WordPress?
HTML and CSS are great for small businesses because they are easy to use and very user-friendly. WordPress is also a great option for small businesses, but it is more expensive and has more features than HTML and CSS. 

However, if you are looking for the best CMS system, it really depends on your needs. If you need a lot of features, then WordPress is probably your best option. However, if you just need something simple and easy to use, then HTML and CSS might be better for you.
Is WordPress or PHP better?
It really depends on your needs as a publisher. If you need a simple site with not too many bells and whistles, WordPress might be the best CMS for small business. However, if you need a more complex site with custom functionality, PHP might be a better option. Overall, wordpress is recommended for publishers.