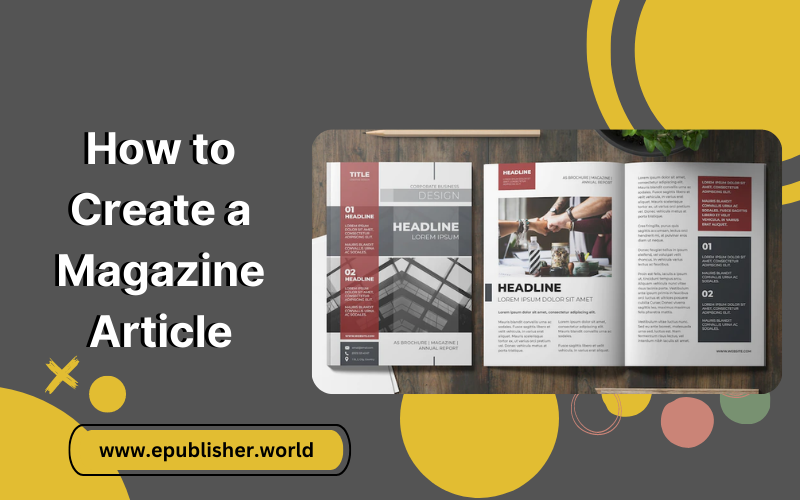 How to Create a Magazine Article
Successful magazine articles require thoughtful planning, research, and writing. Crafting a magazine article takes skill, creativity, and precision. This article will provide a comprehensive guide on how to write a professional magazine article, from brainstorming and outlining to polishing and publishing. With these tips, you'll be able to create a magazine article that stands out from the competition.
A magazine article is a piece of written content that is published in a magazine. A magazine article can be written on any subject, including news, business, lifestyle, travel, health, and many more. Magazine articles can range from a few hundred words to several thousand, and are written by professional writers, journalists, and experts in the field.
Magazine articles are different from newspaper articles in that they are typically more in-depth and focus on a single topic. They often include expert opinions, analysis, and interviews. Magazine articles are often published in magazine style, with images and illustrations to support the text.
Magazine articles are usually written to inform, educate, and entertain the reader. They typically cover topics in greater depth than newspaper articles and may also include features like interviews with industry experts, or a review of a product or service. Magazine articles also often employ an editorial tone and opinion, making them a great resource for readers who are looking for an opinionated take on a topic.
Magazine articles can be found in both print and digital format. Many magazines run their own websites, which feature magazine articles, as well as other content like videos, podcasts, and reader surveys. Many magazines also publish their content on sites like Medium, where readers can find articles from all kinds of magazines.
Magazine articles provide readers with a wealth of information, analysis, and opinion. They are an essential tool for keeping up with the latest trends in any given field and can help readers stay informed and engaged.
A magazine is a printed publication that contains articles, features, and photographs related to specific subjects. It can be a print or digital format, or both.
Different kinds of magazine articles, along with some instances
Magazines are a great way of staying up-to-date with the latest news. They cover a wide range of topics, from fashion and lifestyle to the world of sports and technology. Magazines can also provide readers with interesting insights and perspectives on current events or trends.
There are different types of magazines available, with diverse themes and audiences. Below, we examine the different types of magazines and their uses.
News and Current Affairs Magazines
News and current affairs magazines provide readers with the latest news and information in a concise and well-written format. These magazines typically include a range of topics such as politics, international affairs, business, fashion, art, and culture. Popular news and current affairs magazines include The Economist and The New Yorker.
Lifestyle Magazines
Lifestyle magazines are typically targeted at women and feature articles on fashion, beauty, health and fitness, relationships, travel, entertainment, and home decor. Popular lifestyle magazines include Cosmopolitan, Vogue, and Glamour.
Sports Magazines
Sports magazines provide comprehensive coverage of different sporting events and teams. They often include stories about famous players and feature articles about individual sports. Examples of popular sports magazines include Sports Illustrated and ESPN The Magazine.
Business Magazines
Business magazines provide readers with insights into the world of business and finance. These magazines contain a range of topics such as business strategies, financial planning, leadership, management, and the stock market. Popular business magazines include Forbes and Fortune.
Tech Magazines
Tech magazines focus on the latest advancements and developments in the world of technology. These magazines contain informative articles, product reviews, and news about the latest gadgets and innovations. Popular tech magazines include Wired and PC Magazine.
Magazine subscriptions are available in print and/or digital formats. Printed magazines are delivered to mailboxes, while digital magazines are conveniently accessible online.
For anyone who wants to get up-to-date with the latest news and trends, magazines are a great way to stay informed and entertained. With so many different types of magazines to choose from, there's something for everyone.
Create a digital magazine with Epublisher
Creating a digital magazine with EPUBLISHER is the perfect way to reach your readers with easy to distribute, professional-quality content. EPUBLISHER is a professional grade digital magazine platform that offers a suite of tools to make creating and publishing a digital magazine or product publication easy and hassle-free.
EPUBLISHER's sophisticated tools allow users to design beautiful digital magazines with a minimal amount of effort. With no coding necessary, users can easily upload text, images, and videos into pre-designed layouts in order to create an eye-catching digital magazine.
With EPUBLISHER, users have access to a library of stock images, fonts, and templates to customize the look of their digital magazine. Additionally, users can create interactive sections, including polls and surveys, as well as customize content that appears in different departments of the magazine.
EPUBLISHER also allows users to customize their digital magazine for distribution on different devices. With a responsive design, digital magazines can be customized to fit different screen sizes, ensuring an optimal experience for readers no matter how they are accessing the magazine. EPUBLISHER also supports multiple languages and currencies, allowing users to create digital magazines that can be accessed by an international audience.
EPUBLISHER's secure distribution system ensures that digital magazines are delivered directly to the user's mailbox, allowing readers to access the digital magazine virtually anytime and anywhere. Additionally, readers can easily access digital magazines shared on social media, creating more engagement and reach.
Finally, EPUBLISHER gives users the option of monetizing their digital magazine by enabling them to sell subscriptions and single issues of their digital magazine. EPUBLISHER also allows for targeted advertising, providing the potential for increased revenue.
EPUBLISHER is the perfect platform for anyone who is looking to create a professional-quality digital magazine that is easy to distribute and monetize. With sophisticated tools and the ability to customize content and design, EPUBLISHER is the perfect option for creating a successful digital magazine.
6 best unique ideas – magazine article
Are you in the business of publishing magazines, looking for story ideas, or simply curious about the types of magazine articles featured in print? In either case, you've come to the right place to learn about the most common types of magazine articles and a few examples of each.
Cover Stories: The cover story is the most prominent article in a magazine issue. It often features an eye-catching headline, beautiful photo spread and a captivating narrative. Before you question the standard of a cover story, examine the popular "ARTICLE OF THE WEEK" feature published by Time magazine. It's highly regarded and often written by authors who have contributed to other publications.
Columns: A simple way to attract readers is to feature recurring columns each month. This will show your audience that you're providing them with consistent, up-to-date information. In addition, columns can be written by different authors, allowing your magazine to remain fresh and exciting. USA Today is a popular magazine that exemplifies the power of a strong column program.
Investigative Reports: Investigative reporting takes a great deal of research and dedication, but it also has the potential to showcase important social issues. Take a look at The New Yorker's "The Year in Voting" for an example of what you can accomplish with a well-crafted investigative article.
Reviews: Reviews provide readers with an easy way to gain insight into the latest products and services available. They also help readers form decisions about possible purchases. Popular Mechanics is a well-known magazine that often includes reviews of cars and car accessories.
Profiles: Profiles are an excellent way to provide more information about renowned people, places, and other topics. GQ magazine is well-known for its credentials in the market, featuring profiles of successful actors, athletes and other celebrities. We can't forget about The New York Times either, which regularly features interesting and well-crafted profiles.
Interviews: Interviews can add a touch of personalization to a magazine. They give the audience an opportunity to gain further insight into a person's life and accomplishments. Martha Stewart Living magazine often features interviews with celebrities and figures in the creative world.
Human Interest Stories: What better way to connect with your audience than to feature stories of real people and their incredible journeys? These types of stories offer a unique perspective and can tug at the heartstrings of the reader. Oprah Magazine routinely includes human-interest pieces.
These examples offer some insight into the types of magazine articles that get the wheels turning in the publishing industry. With determination, focus, and an awareness of the latest industry trends, you too can become a dynamic publisher that produces top-notch articles.
How to start a magazine article?
Writing a magazine article can be an intimidating process—especially if you're not a professional journalist. But with a few simple steps, you can produce an engaging and captivating article that your readers will love. Here's what you need to know to get started.
1. Understand Your Audience. Before you begin writing, you need to identify who you are writing for. Depending on the magazine and its target demographic, your writing should be customized accordingly. For example, a children's magazine should feature writing styles that are appropriate for young readers, while a business magazine should include more technical information.
2. Choose a Topic. Once you've figured out who you are writing for, you can move on to choosing a topic for your article. Think about the interests of your audience and select a topic that is both relevant and engaging. Consider current trends and current events to come up with an article worth reading.
3. Research Your Topic. In-depth research is essential to creating an informative, high-quality article. Make sure to explore multiple sources, so that you can fully understand the issue you are discussing. You can also use interviews and surveys to get the opinions of experts and other people involved in the process.
4. Develop an Outline. Once you've gathered all of the necessary information, you can begin crafting an outline for your article. This is an important step in the process, as it will help you stay organized and ensure your article serves its purpose. To ensure that your article is cohesive and well-structured, you should include an introduction, body, and conclusion.
5. Write Your Article. Now that you've done your research and organized your information, you can begin writing your article. Since this isn't a normal essay format, you can get creative and choose either narrative or expository writing styles, depending on the topic. Use simple language and vivid imagery to draw readers in and make sure to include relevant and interesting facts.
6. Review and Edit. Before you submit the piece, you should carefully review the article to make sure it's error-free. Read it aloud and check for grammar, spelling, and structure errors, then make any necessary changes.
Writing a magazine article can be intimidating, but by following these tips you can produce a captivating piece of writing that your readers will enjoy. Start with identifying your audience, then research your topic and develop an outline. Finally, you can write, review, and edit your article. Doing so will ensure that you submit an informative and engaging magazine article.
12 Golden Rules for Creating Great Magazine Articles
Are you looking to write great magazine articles that will captivate your readers and have them clamoring for more? You've come to the right place. Here are 12 rules for writing compelling magazine articles that will make your audience sit up and take notice.
Choose a Topic That Resonates With Your Readers
You want to grab your readers' attention, so find a topic that they can relate to and are passionate about. Think about their interests and focus on something they can relate to.
Research, Research, Research
Once you have a topic, it's time to conduct your research. Gather facts, quotes and other information that can backup your claims and statements in the article. The more details you have, the more interesting and engaging your article will be.
Create an Outline
Create an outline of the main points that you want to cover in your article. This will ensure that your article is organized and that your content flows smoothly from one point to the next.
Craft a Solid Lead
The first sentence of your article should grab the reader's attention and make them want to read more. Use strong language and make sure your lead sentence is interesting and informative.
Use Reputable Sources
Make sure that any information you provide in your article is coming from a reputable source. Unbiased, fact-checked information is essential in providing an accurate and reliable article.
Tell a Story
People love to hear stories, so don't forget to incorporate a story into your magazine article. Whether it's related to your topic or not, a story can be a great way to introduce a new subject or draw in the readers.
Connect with Your Audience
Make sure you're writing your article in a way that your readers can relate to. Try to use language and examples that they can understand and that connect with them on an emotional level.
Use Short, Concise Sentences
Using longer, more complex sentences can make an article hard to read. Try to keep sentences and paragraphs as short and to the point as possible.
Use Active Voice
Using active voice — rather than passive — helps to create an article that is interesting and concise. Make sure you're not using complicated sentence structures that can be hard to understand.
Ask Questions
Engage your readers by incorporating rhetorical questions into your article. Asking questions throughout your article can help keep readers interested and engaged.
Proofread
Make sure to go over your article several times to check for any errors in spelling, grammar and punctuation. Nothing detracts from an article more than typos and other mistakes.
Know Your Audience
Make sure you have a thorough understanding of your audience before beginning to write your article. Knowing what they want and expect from your article will make it easier to create an article that appeals to them.
Following these 12 rules should help you craft magazine articles that captivate your readers and keep them coming back for more. Professionalism and quality are key, so make sure to follow them closely. Good luck!