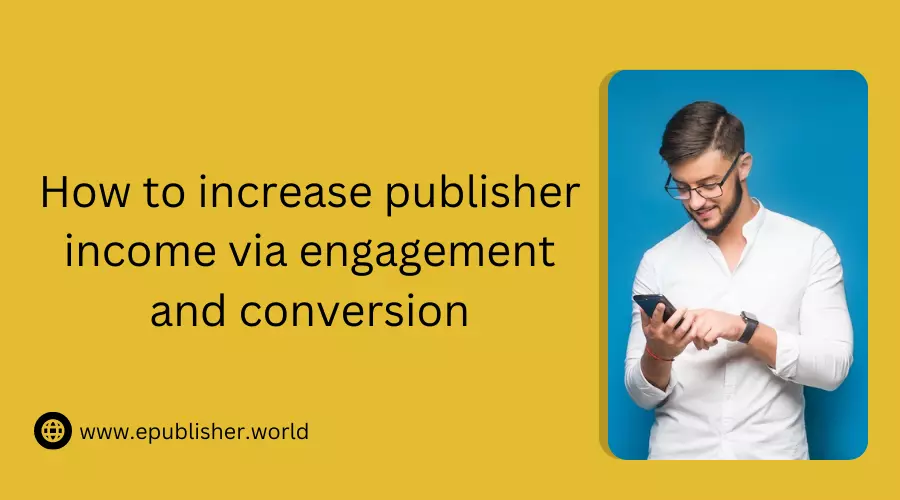 Leveraging engagement and conversion to boost sales
Engagement is critical for digital publishers, but failing to achieve it can prevent you from monetizing your audience.
it is possible to include soft conversion stages into the user experience in order to progressively raise ARPU. Converting a user into a subscriber is not the last step in the funnel; instead, the step that will bring in the most cash from reader revenue is maintaining engagement with existing customers and working to raise their lifetime value.
This article addresses one of the primary goals of digital publishers, which is optimizing the conversion funnel. This goal details drawing in new audiences and guiding these users through the conversion funnel in the direction of becoming paying subscribers who generate revenue for the publisher.
Pool, the Audience Conversion Specialists, and Qualifio, the data gathering and interactive marketing solution, worked together to work through the user path towards subscription, delivering appropriate engagement and conversion techniques to utilize at every stage of the process.
In order to achieve high conversion rates, it is necessary to strike a balance between the levels of engagement and irritation that a user experiences.
If your user experiences an excessive amount of frustration, which may be generated by blocking material with a wall, they will leave and look for content elsewhere.
While leaving too much material up to user interpretation has the potential to boost engagement, it won't help you monetise your content…
Because of this, we have come up with the idea of ​​an engagement funnel, which locates the ideal spots to convert your visitor into a consenting lead, member, and finally subscriber throughout the course of time.
Step 1: Attract audiences and collect compliant consent
The addition of interactive formats to a website not only encourages visitors to stay on the site for longer, which in turn lowers the percentage of visitors who immediately leave the site and increases the likelihood that the visitor will return frequently, but it also encourages audiences to visit the website in the first place.
For example, a group of Belgian radio broadcasters known as NGroup used interactive material during the Covid period, which coincided with a decline in radio's overall popularity. Both increasing traffic and collecting high-quality data for use in formulating a plan were part of the mission.
Six hundred and seventy thousand people took part in the NRJ quizzes that were centered around TF1's streaming of the Harry Potter series (out of the 4 million French speaking Belgian potential participants).
Assuming you have already succeeded in luring visitors to your website, the next step for you and every other publisher is to get compliant permission by using the CMP.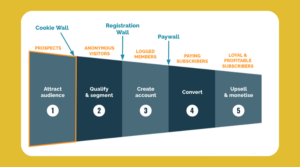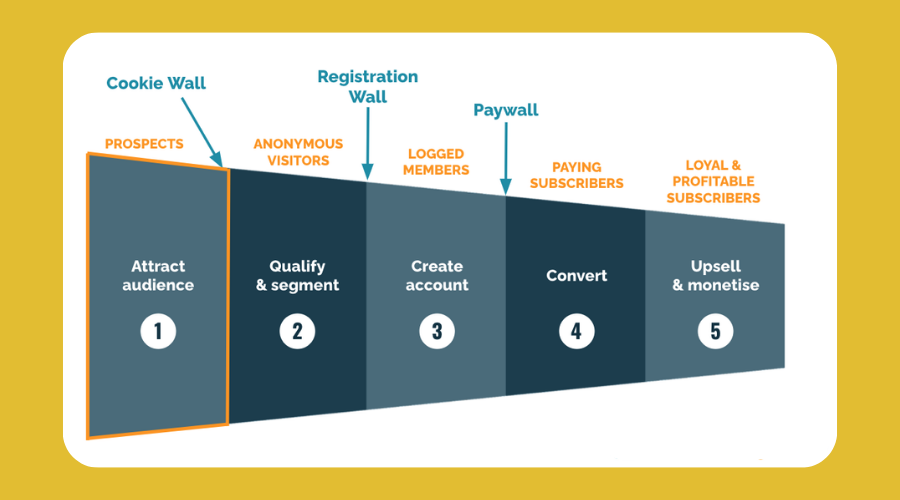 imaage creadit : whatsnewinpublishing
It is essential that you have this capability if you want to be able to monetise even the smallest amount possible from your consumers, as well as analyze data and monitor your marketing activities.
However, the number of people who agree to have their cookies used is decreasing because of more stringent rules. For example, the CNIL in France has made it mandatory for the option to "reject cookies" to be on the same level as the option to "accept" cookies on a website.
These data protection regulations are, without a doubt, fantastic for the online privacy of users; yet, since they make it simpler for users to deny cookies, digital publishers are unable to sell the material they produce.
In addition to this, Chrome and Apple are moving away from using cookies, and ad inventory that does not use cookies is selling for a price that is twice as cheap (or even not at all).
As a result, we advise making use of a Cookie Wall with Alternative in conjunction with a CMP in order to fight this issue. Users who select "Decline" on the cookie banner will, when attempting to access content on the website, be confronted with a "Cookie Wall with Alternative," which will explain the significance of cookies to the revenue model of the publisher and provide them with two options for gaining access to the website's content:
Alternately, you may choose to help our company in a manner that does not include the use of cookies by either subscribing to our newsletter or setting up a free account (the publisher chooses this option)
Step 2: Qualify & segment to increase engagement
At this point, users may have already granted their agreement, but they are still unknown; thus, how can you begin qualifying these audiences and developing audience segments?
The vast majority of Qualifio's customers are maximizing the value of this stage by participating in micro interactions, which might take the shape of straightforward arguments or question-and-answer sessions.
Volento, for example, published an election campaign article and included a quiz at the end of it to not only increase engagement (decrease bounce rates, etc.), but also learn about the user.
While the first question asked the reader's opinion on the election, the second and third questions asked the reader's age and gender, collecting important data points that the publisher can use to inform their strategy. This is a fantastic illustration of how to strike a balance between engagement (providing value) and the publisher receiving value in return.
This data may be contributed to your DMP in order to deepen audience segmentation, which will ultimately lead to an increase in advertising income via targeted advertising.
To take engagement to an even higher level, you may also want to think about using some "soft conversion methods," such as a Newsletter Wall.
This prevents visitors from accessing material and instead prompts them to sign up for your newsletter in order for them to be able to see content.
The next stage is to reveal the identities of these actively engaged people in order to recruit them as paying members, which will be very beneficial to your business model for both subscriptions and advertisements.
Step 3: De-anonymization
You may embed a Registration Wall into your material, which will prevent access and prompt people to sign up for an account on your website before allowing them to proceed. This will allow you to successfully convert a considerable proportion of your users into members.
This results in an increase in ad income because you are now able to target ads. It also results in an increase in engagement since users have access to more quality material, and it enables you to tailor the user experience.
The most essential benefit of breaking through the wall is that it enables you to get a unique reader ID and slowly gather first-party data over the course of time as a member engages with your website and the material you provide. This will provide you with the chance to learn about their interests and the areas in which they find value in your material, which will allow you to put this information to use in the future when offering the paywall at the appropriate moment and on the appropriate content .
In order for users to take part in an interactive manner, Qualifio may also offer them a form for the establishment of an account, which they are required to fill out. In the case of Vocento, fifty percent of single sign-on account creations are the result of interactive advertising; once again, the focus is on creating a value exchange.
You have advanced the users farther through the funnel, and now that they are registered members, they have a very high probability of subscribing. The data shown above comes from one of Poool's customers and demonstrates the significant increase in conversion rates seen by members in comparison to those of anonymous visitors.
Step 4: Convert users into subscribers
Converting these people into paying subscribers is the best way to set up a reliable and consistent source of income, which is why the time to do it is now. This is the most financially viable approach for the business of publishing digital content. In point of fact, the average revenue per user (ARPU) of one subscription is equivalent to that of 20 members or 300 anonymous users.
You may effectively accomplish this goal by including a paywall into the experience of an engaged member. This wall will restrict access to content and prompt users to subscribe in order to unlock it.
On the other hand, you can't simply slap a paywall up on your website, walk away, and anticipate that it will always do the trick to turn visitors into subscribers. you must consistently put forth effort to improve its performance. You might also experiment with a hybrid wall approach, much as EBRA did. In one instance, they mitigated the risks associated with a paywall by deploying a newsletter wall in conjunction with a paywall. This arrangement provided less engaged individuals with the opportunity to bypass the wall by signing up for the newsletter.
A/B testing is, however, the most reliable method for determining which paywall model is most suitable for a certain business's objectives, content, and target demographics.
For example, France Antilles conducted a test to see if the length of their value proposition has an effect on click-through rate (CTR). They discovered that version B, the wall with a shorter value proposition, performed five times better on average than version A, the original lengthy value proposal. Version B was given the name "Value Proposition Wall." And this was the case across the board for all different types of audiences and websites (3 in total).
When Le Journal du Dimanche tested the color of their paywall on mobile devices, using a 50/50 audience split, they discovered that yellow outperformed grey, which is why they use this color today. In other words, yellow outperformed gray because it is more noticeable.
Once again, interactive material may prove to be quite beneficial at this point in order to enhance conversion rates, particularly forms that are tailored to the user's profile.
Step 5: Upsell and monetize to retain subscribers in the long term
The icing on the cake is that, in addition to maintaining active engagement with subscribers in order to lower the rate of customer churn and improve the average income per subscriber via upselling, you should do both.
For instance, ELLE and Pierre & Vacances worked together to create interactive content for ELLE's subscribers by asking, "what's your favorite sort of holiday? This data may then be utilized by Pierre & Vacances to customize marketing efforts and give visitors with the vacation that is best suited to them.

It is essential, above all else, to avoid the mental trap of considering the sales funnel to be complete after a consumer has subscribed to the service. It is in reality far more beneficial to you and much less expensive to keep an existing subscriber than it is to get a new one, which is why engagement shouldn't be ignored once conversion has taken place.