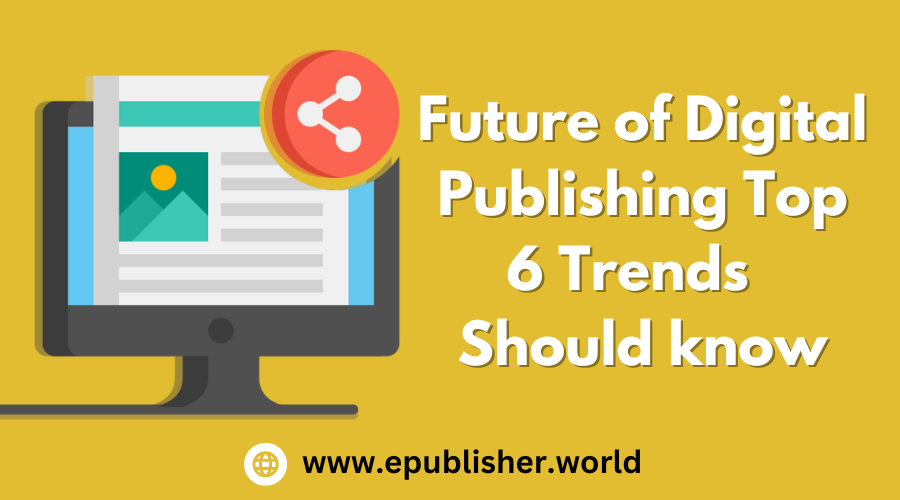 Future of digital publishing
It can be challenging to know where to start when there are so many possibilities. If you're new to the world of online publishing, this guide to the six most important trends in digital publishing in 2023 should prove useful.
1. content that is compatible with mobile devices
Currently, mobile phones have the most users, so incorporating mobile marketing into digital campaigns is becoming crucial for companies of all sizes. Recent research indicates that by 2023, mobile will be responsible for 85% of all consumer spending.
Mobile optimization has become an integral part of today's content marketing strategies. As the first thing visitors to your website or blog see, it strongly influences their impression of your company. You should immediately begin making your content mobile-friendly.
2. the importance of advertising on social media
Ads on social media platforms like Facebook, Twitter, and Instagram have rapidly grown in importance as a cornerstone of any comprehensive digital marketing plan for organizations of all sizes. Marketers nowadays need to know how to make the most of social media channels like Facebook and Twitter to promote their goods and services, as customers are increasingly seeking for businesses that provide useful material on these sites.
Social signals are now being included into search engines' ranking algorithms. So, if people really like your blog articles or other material on social media, it may boost your search engine rankings.
Tracking your audience's activity using a tool like WordPress, Google Analytics, or Facebook Insights can help you improve your content's appeal and shareability.
Bypassing traditional publishing gatekeepers like publishers and editors, sites like Medium let writers get their work directly in front of their audiences. This streamlines the publication process for authors who don't want to deal with the intricacies of the conventional publishing industry
3. Reasons Why Influencer Marketing Is Taking Off
As influencers grow in popularity and reach, businesses have greater opportunities to capitalize on them via influencer marketing. According to a recent report published by Forbes, the addition of a celebrity to an advertisement boosts customers' interest in the advertised product by 7% and their intent to buy by 3%.
4. Video advertising
Marketing strategies that use video are becoming more common because of how good it is at attracting attention and encouraging interaction, even more so than text-based material. Using video, you can communicate tales that would be boring to read in print form. Make sure your films are mobile-optimized for rapid loading times and get on the video bandwagon by incorporating them into your website and social media profiles.
5. SEO
If you're in charge of an app, website, blog, or magazine and want to increase your income and readership, you need to focus on getting your content in front of the proper people. To a certain part, this is where SEO comes in handy.
Unfortunately, many online media and companies still don't optimise their content. This means that their material isn't ranking very high in search engine results pages (SERPs). A search engine optimization (SEO) firm that keeps up with Google's recommended best practises is a great choice for managing your site's visibility online.
Building your website in a way that is friendly to algorithms can help search engine crawlers swiftly index your material and boost your site's ranking.
6. Google News
Improving your content's position in the Google News results may result in a substantial increase in site visits. Your content's visibility on Google News is determined by a complex set of signals used by the search engine's algorithm. High-quality material, however, is always a consideration.
Therefore, you need to put resources into content production if you want to benefit from this widespread medium.
Conclusion
In conclusion, developments in digital publishing will continue to help authors create content that consumers like. There will be a shift in how consumers consume material, thus publishers will need to adjust their methods accordingly.