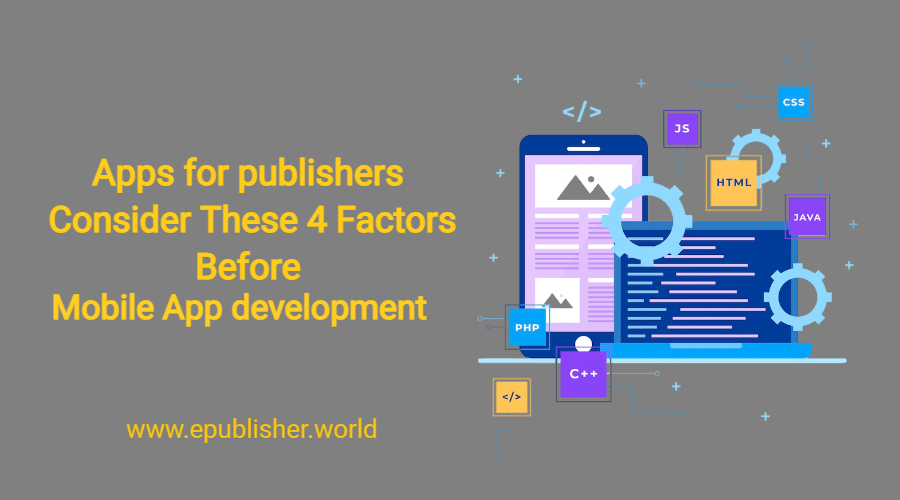 Mobile app development for publishers
Over the past few years, the market for mobile applications has shown phenomenal expansion. According to the statistics, there will be more than 6 billion smartphone users worldwide by the year 2020. According to Statista's estimates, there might be as many as 352.9 billion app downloads by the year 2021. This demonstrates that the importance of the market for mobile applications will only continue to get stronger in the future.
Businesses have increasingly looked to mobile applications as an important part of their strategy. This is used by a wide variety of organizations for a variety of valuable purposes, including but not limited to: boosting sales and services; raising profile; strengthening relationships with customers; broadening access.
You may wish to hire experts in the field of mobile app development if you're thinking about creating an app. Benefits include reducing costs and freeing up time for things like marketing and the pre-launch party.
You may also assume the role of project manager and have full control over every area of the app development process when you outsource to a third party. All you have to do is direct the developers and they'll follow your instructions.
If you need flawless final outcomes, outsourcing is not something to be trifled with. Although there are many potential benefits, you should be aware that a substantial risk will also be involved. Because of this, it's important to have everything done properly.
Here's what you need to understand before outsourcing your startup's development so that you may have a positive experience and avoid the horror stories.
The expense of contracting out the development of mobile applications
The elements of mobile app development cost shift and change based on the specific circumstances. When you outsource the creation of an app, you should prepare yourself to spend anywhere from $25.00 to $100.00 depending on your region. You may pay less than fifty dollars on a simple programme, but you might spend up to two hundred dollars on a complicated app that comes with many different features.
Get a solid grasp on the mobile application that you want.
It is imperative that you have a detailed description of the final product in mind before you begin your search for qualified professionals to manage the application development project. Be forthright about the work at hand, and steer clear of terminology that is ambiguous. The following are some of the points that need to be clarified:
A comprehensive plan for the proposed service or product, which needs to incorporate both the desired outcome of the application and its intended user base.
A list of the capabilities and features that the developer has to incorporate.
Whether you want an app with all of the bells and whistles or just the basics.
What kind of service you need, such as app monetization, user experience and interface design, or something completely new.
The platform that is preferred. Determine whether or if there is a requirement for extra bespoke items such as promotional websites and web administration panels.
Specific timetables and costs are also included.If you provide the developer with all of the necessary facts, they will be in a better position to figure out whether or not they are capable of completing the assignment. Additionally, this will make it possible for the experts to provide you with an exact estimate.
Find a suitable coder
After ensuring that the app's particulars are accurate, the following step that should be taken is to search for a reputable developer. Do not allow yourself to feel forced into making a decision immediately away; yet, it is necessary to do so since it will allow you the opportunity to remove the businesses that you believe do not meet your requirements.

You are interested in contracting out mobile app development to a company or an expert who satisfies the needs of your company, is at ease interacting with the culture of your company, and is compatible with your approach to work. Be certain that the developer you pick is the one who will be responsible for the project, and that they will not also be participating in outsourcing the job.
When looking for the perfect match, you should not be afraid to broaden your search to include other countries. Be careful, though, and make sure to conduct adequate research, checking out portfolios, and reading reviews in order to ensure that you wind up working with specialists who can be relied upon.
Set significant benchmarks
It is essential to have a conversation regarding the project's milestones when both you and the developer are working together on the same page. This will indicate the particular areas in which certain chores need to be finished. At this point, you should also choose whether you will utilize a pay as you go method or make an initial payment and then pay the remaining sum after the job is finished.
These are vital on your side since they will enable you to evaluate the development project as time goes on, which is another reason why they are essential. As you proceed through the testing process of the app's features and modules, you will have the ability to make any required adjustments, which will allow you to produce the app in its most refined form.