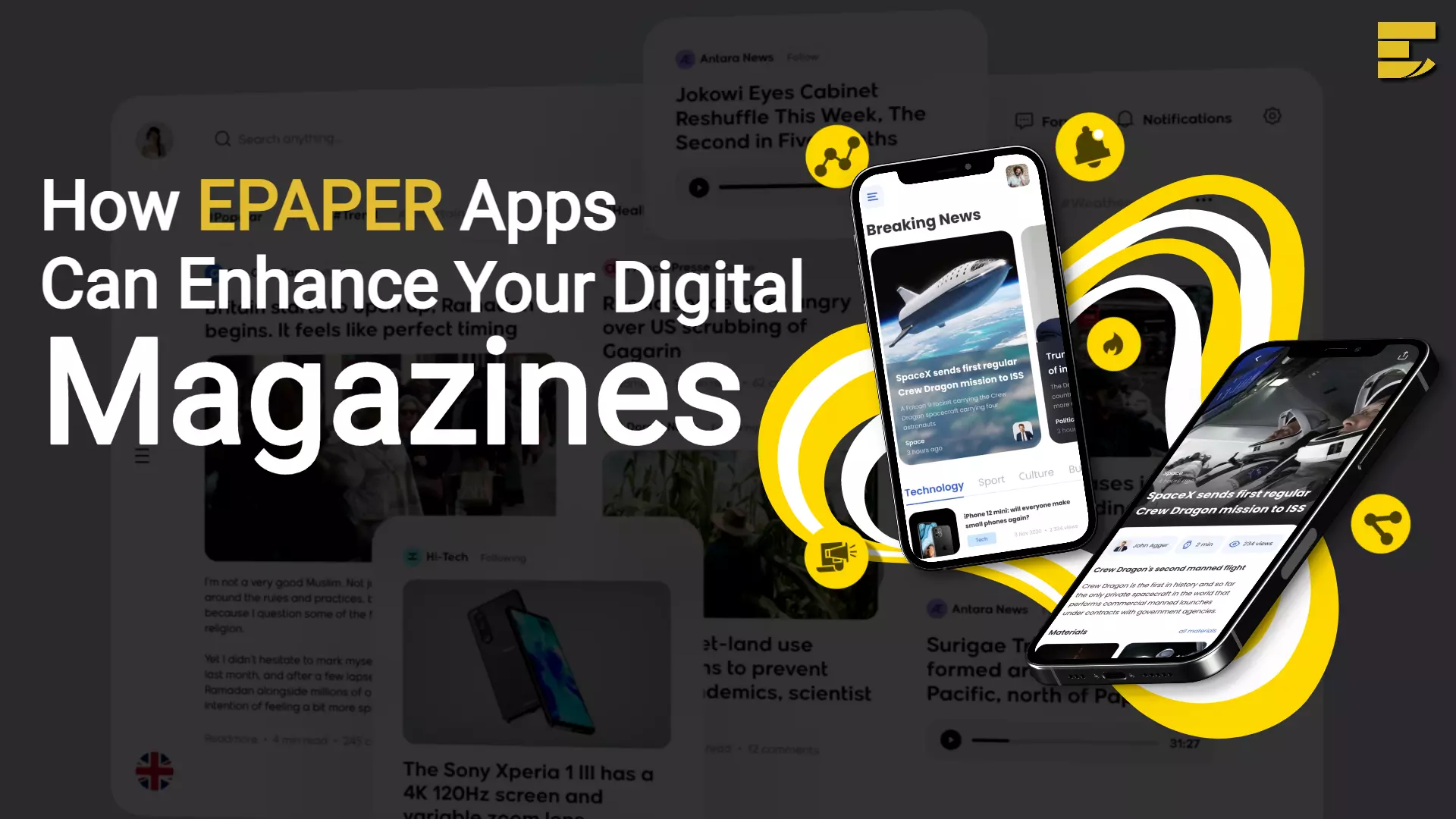 It is important to make your Digital magazine, not just text, with a few images added to fill in space. You must create a digital magazine that is interactive, multimedia, and entertaining. apps from EPAPER can help you accomplish all of these objectives and more using its publishing applications.
With EPAPER Apps your magazines can let readers subscribe to alerts so that they are informed of the latest news in your industry. They may also provide links to content specific to your industry that readers might be interested in. So your readers do not have to rely on their memories and can access the information they need quickly and conveniently.
Why EPAPER Apps for Digital Magazines?
Digital magazines are an excellent alternative to traditional magazines since they provide a variety of advantages over print publications:
Simple Content Creation Making your own digital magazine is simple and doesn't require any technical know-how. It's not necessary to master complicated software or pay a high cost to build. Create an online magazine by using our drag-and-drop interface. Upload all your content, check it out, and publish it when it's ready.
Save Money Paper is costly, whereas digital files do not, so creating digital publications is less expensive that printing one. Furthermore, you'll save money since there are no shipping costs associated with distributing them digitally.
EPAPER Apps Enhacement First Step
Through EPublisher you can build standalone digital magazines or even specific apps that make your magazine available for tablets, smartphones and other mobile devices.
No matter if you're an existing client wanting to grow your publication or a publisher searching for different business model ideas, EPublisher is a product to start with swiftly and effortlessly. The first step is to download our demo application via Google Play (Android) or App Store (Apple). This tutorial will show you how simple it is to upload images and PDFs.
The Best Way to Publish A Magazine With EPublisher
Publishing apps that use EPublisher is the ideal choice to create rich, interactive media that could be utilized in numerous ways. Once you've published apps using EPublisher you gain access to advanced publishing software and workflows that allow you to create interactive content for mobile devices as well as the web.
Additionally, in addition to publishing to multiple platforms – iOS, Android, Windows Phone, Xamarin, and more It also gives you access to a library of content and materials that are ready to use in your projects. With EPublisher it is possible to not require several programs or applications to create distinctive digital magazines, such as Epapers.
You simply have a clear solution with an innovative publishing app development company: EPublisher. In addition to all of these benefits, It's also simple! Create an app now and share your story with the world!
Video In Digital Magazines – An Overview
Video is not a new feature in digital magazines. In fact, you've been able to make them using E-PUBLISHER's PDF to video application since the year 2010. The platform has been integrated into several cloud-based services over the past few years such as Google Drive and Dropbox.
It is able to be used for more than just turning documents into videos. it can also be used to convert existing PDFs as well as images into video as well. It allows you to integrate the video right into your online magazine, with little effort.
Why Should You Use Video In Digital Magazines?
Utilizing video content in digital magazines is a potent instrument that all publishers should make use of. It enhances your publication's value, and also serves as a method to bring visitors to your site.
If video is utilized properly when it is properly used, people are more likely to share their content because they feel their opinions matter. Videos also help you stand out from the other companies in your field who do not use videos for their publication. E-paper has developed an application for digital magazines, dubbed EPaper Apps which allows publishers to improve their offerings by incorporating videos, animations, images and audio clips to their magazines.
Publishers can also include live links as well as buttons that let readers comment on or share what they've read via social media sites like Facebook and Twitter.
The 4 Best Ways To Add Videos To Your Digital Magazine
Digital magazines are more than simple pages of words. Nowadays video has emerged as among the top well-known ways of communicating. Integrating videos into your online magazine is an excellent way to enhance your content and connect with your readers.
The most important thing is to ensure you don't ruin a beautiful layout by using poor videos that could disorient or confuse your readers from actually absorbing information from your online magazine.
Images, And Animation In EPAPER Apps of Digital Magazines
Digital magazines, also known as e-papers, are an attractive and well-liked way to share content. Although they may look similar to traditional books, they're actually documents that are interactive. Although a traditional text-only magazine isn't going out of fashion Your digital magazine could be much more than that.
If you're publishing with EPUBLISHER You'll have access to tools that let you incorporate animation and images within your publications. This allows readers to feel for the content you're sharing even before clicking through. Furthermore, PDFs created using EPUBLISHER permit users to simply click on images inside PDFs to get more information or hyperlinks.
Other Features Of EPublisher That Can Be Used In Digital Magazines
EPublisher eMagMaker has a broad selection of pre-set templates to aid you in creating digital magazines that can meet your every requirement. Here are a few examples of Digital Magazines that incorporate Audio and Video Digital magazines with animated GIFs Digital Magazines that function on mobile Devices just like web pages EPublisher eMagMaker offers an easy-to-use user-friendly platform that eliminates the burden of creating digital magazines.
It doesn't require any programming skills However, it does include several professional features. You can create your digital magazine with Adobe InDesign and HTML5 or with Microsoft Word and PHP5, whatever you choose, it's going to look stunning.
Adding Links To Digital Magazines | EPAPER Apps
Digital magazines come with an impressive variety of built-in functions like images, links videos, sound eBooks, and many more. In addition, they have the social media sharing feature and digital magazines can be a powerful medium to reach your intended viewers.