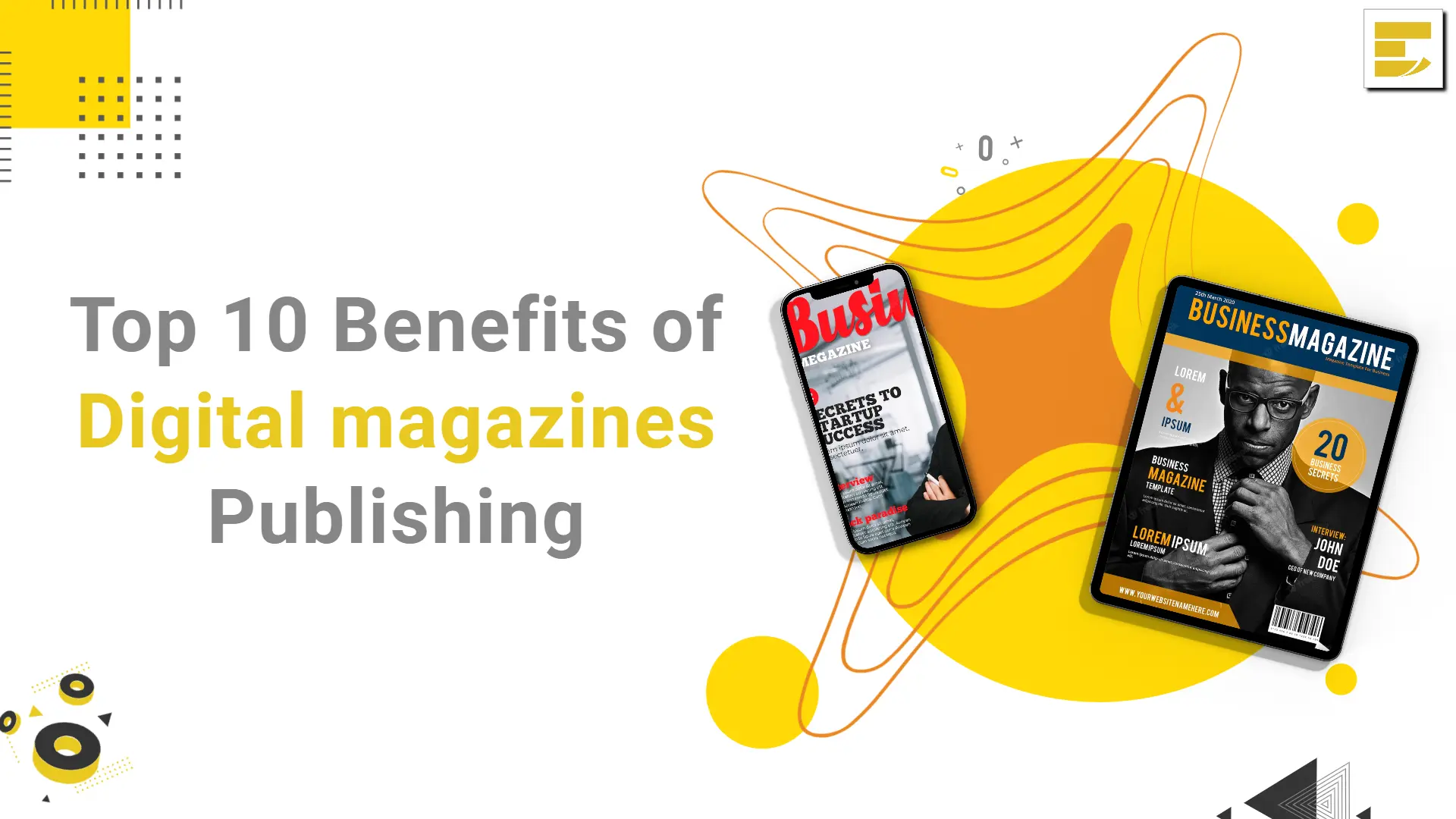 Benefits of Digital magazines Publishing
1. Access to content is easy
Digital magazines are preferred because we spend so much of our time online. Our reading habits include extensive use of the internet and are not limited to any particular time of day. It is easy to save your favorite articles, share them with others, create a community, and discuss them online.
2. Instantaneous Access
It is easy to buy and read digital magazines. One can quickly access the digital edition of the magazine he chooses from the comfort of his home. You can view and read it anywhere, anytime. Instead of managing many books, you can get the information you need quickly.
3. Portable and convenient
Digital magazines can be carried around and viewed at a user's leisure. Digital periodicals allow readers to carry multiple issues at once, rather than several printed publications.
4. Digital Publishing givesnGlobal Presence
A digital magazine can be accessed worldwide once it is published. A digital magazine can be shared by an author with a worldwide audience. Geographical borders are no longer barriers.
The readers can also quickly share digital magazines with their family and friends, which increases the publication's user base.
5. Interactivity
Online magazines offer a more engaging user experience than printed ones. You can capture the attention of users by providing amazing graphics, music, video, pop-ups, and other interactive elements.
Authors can increase user engagement further by making two-way communication possible, using push notifications or feedback forms.
6. Cost-Efficient
Digital magazines are far less expensive than equivalent printed magazine operations. Digital magazines are much more cost-effective than printed magazines. They can be bound, printed, and delivered without additional costs. You are correct, there are no additional costs for printing, binding, or delivery.
7. Analytics
Writers can use digital analytics services to gain a deep understanding of user behavior. One can quickly check who is visiting the websites, what information they are reading, and how they feel about the content, and share it on social media. This level of information is not possible for regular printed publications. Digital analytics allow writers to gain an in-depth understanding.
8. Sustainability
A digital publication has an infinite lifespan and can be used for years without any changes. However, printed periodicals begin to lose their value with every passing year. You also have the possibility of the print becoming lighter and the paper quality deteriorating.
9. Monetization
Authors can offer a variety of well-placed ad slots or market their services or products. Businesses can use digital elements to create interactive commercials. They also have the ability to better target their audience. This leads to higher conversions and sales you can generate more revenue
10. It's easy to update
Editing magazine content for a print publication can be a nightmare. It becomes very difficult to edit content once duplicates have been produced. The only solution is to publish a new edition. However, it is easy to edit a digital magazine.
Authors may modify the text while keeping the layout and number of pages the same. A few minor changes can make a magazine up-to-date.
Digital magazines are a new way of publishing and have the potential to change old publishing habits. They offer convenience and interaction, as well as value for money.
To stay ahead of the curve, the majority of magazine publishers have accepted this digital transition. What are you waiting to do? You can set your goals now to make your digital magazine a success.