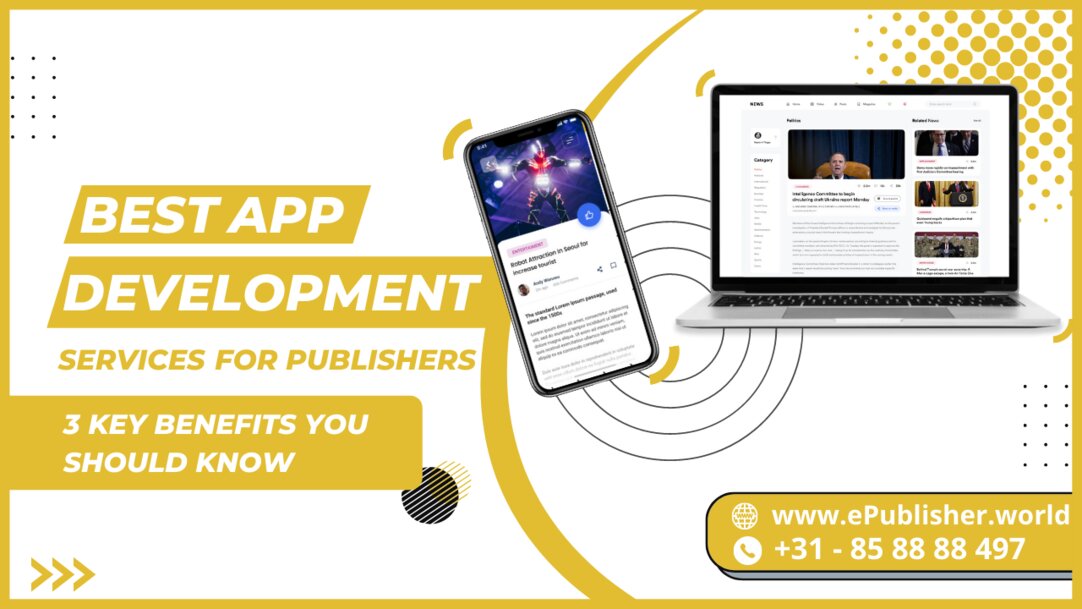 Best App Development Services for Publishers
Over the past few years, there has been significant growth in digital magazine subscriptions . According to a recent study, digital magazine subscriptions have grown by over 40% in just four years.
This is largely due to the fact that digital magazines are more convenient and affordable than print magazines.
They can be read on any device, anywhere, and at any time. Plus, they often come with additional features, such as interactive content, video, and audio.
If you're a publisher, then you know that it's important to have a digital presence. After all, that's where your audience is.
But what's the best way to reach your audience?
Sure, you could build a website and hope that people find it. But let's face it, most people won't.
And even if they do, there's no guarantee that they'll actually read your content.
The fact is, people are more likely to read content that's delivered to them in a format that they're already comfortable with, such as a digital magazine.
Plus, with a digital magazine, you can include interactive content, such as videos and audio, which are proven to engage readers.
So, if you're looking for an effective way to reach your audience, then you should consider creating a digital magazine. And the good news is, that you don't need to be a tech expert to do it.There are now
apps that allow anyone to create a digital magazine, without any prior experience.
One of the best apps for creating a digital magazine is FlippingBook.FlippingBook is an easy-to-use app that allows you to quickly and easily create a digital magazine.
Plus, it comes with a range of features that make it easy to engage your readers, such as:
Interactive content
video and audio
Links to external websites
Social media integration
password protection
And much more!
If you're looking for an easy way to create a digital magazine, FlippingBooks is the perfect digital solutions.
Best tips for Publishers to choose App development Services
Apps are a key part of any modern marketing strategy. Mobile devices are now popular, and people are using them for everything from reading the news to booking holidays.
And that's why apps are so important for businesses. They provide a way to reach out to customers and prospects where they are – on their mobile devices.
But developing an app can be a complex and costly process. You need to design and build it, and then get it onto people's phones.
That's where a mobile app development company comes in. They can take your app idea and turn it into a reality.
But with so many app development companies out there, how do you choose the right one for your business?
Here are four things to look for in a mobile app development company:
1. A proven track record
When you're looking for a top mobile app development company, you want to choose one with a proven track record.
Look for a company that has developed successful apps for other businesses, and check out the reviews and ratings of their previous work.
2. Expertise in your industry
It's also important to choose a mobile app development company with expertise in your industry.
The company should understand your business and the needs of your customers. The Company should also be up to date with the latest trends, technologies, and development environments.
3. A collaborative approach
Developing an app is a complex process, and it's important to choose a mobile app development company that takes a collaborative approach.
You should be able to work closely with them throughout the development process, from the initial planning stages through to the launch of the app.
4. A focus on quality
When you're choosing a mobile app development company, you should also look for one that focuses on quality.They should have a proven track record of delivering high-quality apps that meet the needs of their clients.
Check out their portfolio of previous work, and look for reviews and testimonials from satisfied clients.
By keeping these four things in mind, you'll be able to find the right mobile app development company for your business.
How do you choose an application?
Selecting an app should first be based on the content you're currently producing and Distributing. If you own newspapers that are coming out on a regular basis, an app for daily news would be the most Relevent
If it's not a week, you should try a magazine application or both! Whichever you decide to use, keep in mind that almost all apps have some kind of paid-for advertising for each kind of content. As we said, a lot of users who download your application are expecting it to be free.
This means that any advertisements or in-app purchases must be anticipated to be able to break even on production costs. It's also important to think about how long it will take you to be able to maintain and update the latest version of your application.
In addition, although they might not be regularly updated, News apps typically outlast other kinds of apps due to their content not being updated regularly.
News apps could get into trouble if they are outdated but remain available on mobile devices. users might not be able to see the latest news because they believe it's obsolete. Keep the date of the last time you updated your app.
What are the features you should look out for?
To be able to create an effective publishing application, you'll require access to a lot of users. Additionally, you must be able to profit from these.
It is possible to utilize ads or in-app purchases. Additionally, you will require data on how users engage with the content to ensure you can make improvements to the quality of your content.
Another thing that's not crucial, yet often undervalued is the use of push notifications as they do not really add worth and are actually more annoying than everything else. Notifications via push should only be used when they inform readers of items that are not able to be delayed until the following day (for example, announcements or event invitations, etc. ).
If your app doesn't connect large numbers of users and doesn't have any other method to earn money from the app, it is probably not worth the effort. A crucial aspect to consider is responsive design, which means it is compatible with any device, from phones to desktops and tablets.
The apps you create should work on the major platforms, including iOS or Android Phones, etc. If you are developing the iOS App make sure that it is approved by Apple before you release it since otherwise, you could be denied or even removed from their stores, which could damage your reputation and cost you time and money because you'll have to redo the entire process before submitting it again.
3 benefits of apps for publishers
1. The faster a news organization is able to get its message out, whether in printed or online media it is usually a decisive element in whether the publication succeeds or fails. Reaching readers quickly with relevant information and news can provide them with an advantage over rivals.
2 . Readers are taking an active part in searching for stories they like and apps allow readers to participate by offering layouts with innovative methods of designing the attention of and connecting with the audience.
3. Apps also allow news organizations to play around with various formats of content like video clips or photo galleries. Apps drive visitors returning to sites and provide users an incentive to sign up.
Where can I get started?
The process for creating apps is straightforward. You will require an epublisher to develop your magazine application for you. They can assist you in your brand strategy and content management, as well as the development and design of magazine applications.
The app will also include push notifications. It's easy to control these functions from your dashboard on the backend or via your web-based interface (you can publish new publications or update existing ones with a few clicks). Users can sign up to receive notifications when new news, content, or events are posted on the internet. Start today using Epublisher to take your publication to a higher level.
Our recent Portfolio in App develoment