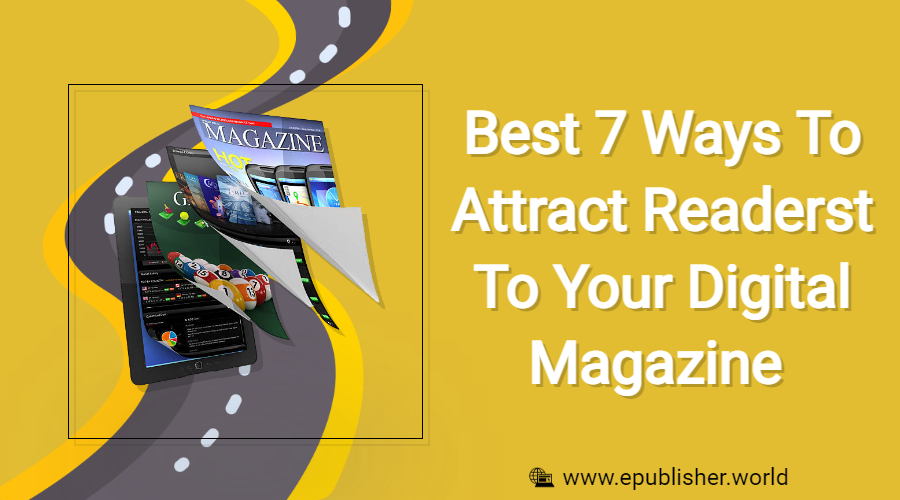 Digital Magazine : 7 Ways to attract Readers
Publishing houses, corporations, and stores, among others, all require an online presence in today's market. As the actual potential of disruptive technologies poised to turn the game on is revealed, it is clear that the accelerated digital change brought on by the pandemic will certainly deepen in the coming years. In 2022, I suggest we look at interactive online magazines as a means of reviving reader interest and generating new money. Have you informed your writers and editing staff about the latest developments?
As the world continues its rapid shift into a digital, immersive universe, digital magazine publishing has seen explosive development since the advent of the Covid-19 epidemic. The tremendous trend toward reading magazines online will not just persist, but speed up as more and more people get access to the internet.
It doesn't matter whether you're totally new to online magazine creation or a seasoned veteran; we've got your back as we delve into tried-and-true, cutting-edge strategies for fostering reader loyalty, repeat visits, and a positive shoppable experience for your readers.
The current human attention span is estimated to be about 8 seconds, with many readers losing interest within the first 10 to 20 seconds. With people's attention spans becoming shorter and shorter, it's becoming more difficult for online magazine publishers to re-engage their readers with their "overwhelming" array of marketing strategies.
Content that is credible, tailored, entertaining, and able to address the user's issue is desired by both millennials and boomers alike. All you need is digital magazine software that can keep up with your evolving needs, and a plan to make your readers into engaged, active participants.
In 2022, what do you want to accomplish for your audience?
Shoppable experience
A recent survey found that despite the growing popularity of digital magazines, people still like using their mobile devices to get their preferred media. Indicating they prefer using their pocket gadget to access media. If you want to provide your readers with a smooth, optimized mobile experience, you should probably create a magazine app with an interactive interface and optimize it for mobile devices.
The term "shoppable experience" is used to describe the process of making tasks easier for users. Now more than ever, it's important to ensure that your uploaded material is compatible with a wide variety of devices, so consider using responsive design.
Alternatively, you may use a magazine app. Building an app may seem difficult and costly, but with the correct magazine software, it's a breeze. Many services promised to transform PDFs into digital magazines viewable through the web on mobile devices like iPads, but there is more to be had with the help of specialized magazine software.
Using their platform, you may create an app that distributes magazines. If you use this software, you may publish magazines with all their strength, since the material can be launched straight on magazine applications without any further work or the need to know how to code.
Personalization at scale
Multiple companies, both big and small, old and new, are contributing significantly to the expansion of the 'digital-first' economy. But how can they take advantage of such a huge window of opportunity? Almost all members of Generation Z and Millennials want their internet interactions to be simple, quick, and enjoyable. So, it's one's own business, if you will. A comprehensive knowledge of your customers and timely, relevant, linked, and actionable experience data are essential to achieving personalisation at scale.
Your content creators and marketeers will benefit greatly from the insights provided by web analytics when using these technologies. Social networking sites such as Facebook, LinkedIn, and Twitter allow you to communicate with your target audience in real time.
In addition, you may provide geographical services by using maps and locational context. This manner, you may concentrate on customer service rather than data collection and distribution. Optimize your campaigns and guarantee your content is generating useful connections with high-velocity content and an automated process.
Further, you need to make use of a real-time engagement point, such as online/mobile customer care, AI voice chat, etc., to answer questions from consumers and customers in a timely manner.
easy-to-use interface with dynamic features
Digital magazines with subtle interactive elements are wonderful, but overuse may backfire and become annoying. Readers often abandon a site because the interaction was not user-friendly or easy. Therefore, it may be beneficial to their reading experience if we maintain an intuitive style.
Use of video, animation, GIFs, 360-degree views, hyperlinks, and other interactive components may pique a user's attention. People that want to interact with your material want to enjoy their time doing so; thus, you may wish to avoid employing auto-movements such as auto-scroll carousels, which may distract attention away from your content.
When you use Epublisher Now, a product from Magplus, you can create dynamic, responsive content with a high degree of user participation. Here, you'll have access to a wider variety of widgets, such as panoramic and picture sequence viewers.
Using Epublisher Now, the simplest and most powerful magazine software available, you won't have to worry about spending a lot of time or resources making this happen. In other words, you have access to everything at once. With only a click or two, you can add audio and video to digital magazines from any location.
Credibility and regularity
The top few links on Google are the ones that readers click on most often because they know they will find reliable information there. Creating a digital magazine from scratch is easy compared to the work involved in getting readers to trust your work. If you do a good job of keeping their trust and confidence over time, they will likely become dedicated followers.
To outrank the competition on the most popular search engine, your team requires search engine optimization (SEO) specialists and content marketers. You may increase your click-through rate from organic search results with their help. Optimizing your magazine's title, meta tags, and content (including picture and video) and attempting to develop a solid network of internal and external connections is all that's required.
Discover your page's principal keyword, secondary keywords, and long-tail keywords with the help of any SEO keyword tool and work them into the page's copy. The internet takes notice when you produce shoppable content and publish an engaging magazine.
As a magazine publisher, it is your responsibility to provide readers with content that is reliable, interesting (via the use of interactive features), and either helpful in answering their questions or up-to-date on the latest trends in the reading world. Keep in mind that improving engagement is more important than increasing it.
Interaction in real time
The next step, after getting people to read your material, is to get them involved with it. Makers of digital magazines have the difficulty of maintaining reader interest. There are tried and true advertising methods you can use to guarantee your products and services meet up to customers' expectations. Push notifications and in-app notifications are two such strategies.
Depending on the app, notifications may appear as a pop-up or as a list, maybe with a button in the app's upper right corner. Users' screen time is irrelevant, since push alerts may be shared with them at any moment. Explore the many options available for your push notification marketing strategy.
Customers may find pop-ups unpleasant if they are not directly related to their needs or actions on your site or app. If you care about conversion rates, you'll make use of personalization features in your pop-ups. This necessitates the use of pop-ups to provide material that is tailored to each unique user.
At this point, dynamic content, which is material that is updated or altered on the fly, may help make the piece seem more relevant to the reader. Content with a greater degree of relevance tends to be remembered for longer.
Get the data you need right now
Online magazines are popular because readers can quickly and easily obtain high-quality articles. The unstoppable flow of immersion offered by magazines leaves readers feeling desirable, light, and breezy. Surely someone you know intimately has told you, "it's my favourite magazine, buddy!" Does this also increase the likelihood that they will buy anything from your magazine? The answer is yes.
Because they like reading your content and trust your services, your new permanent readers are more inclined to sign up as paying members. We've all seen a dramatic shift in customer expectations; therefore, businesses must embrace more flexible operational frameworks to keep up.
It is at this point when magnetic advertisements and subscriptions come into play; they are two of a magazine's most crucial income streams. With these kind of methods in place, you'll be able to make money off of your material while still being responsive to your audience's needs. Here you may learn more about monetizing your ad space.
Content of all types
Finally, the best way to win over your readers' affections is to provide them a wide range of material types to choose from. Since you may reach an international audience with your material, it is incumbent upon you to welcome the demographically varied audience that subscribes to digital magazines, a trend that may be embraced by your brand and emulated by competitors.
People of all ages, genders, and sexual orientations read magazines nowadays. More people may potentially read and subscribe to your digital magazine if you improved your ability to communicate with them.
Making a digital magazine isn't a one-and-done strategy; rather, it's an ongoing technique of attracting and retaining customers with your app, website, or microsites by providing them with engaging, portable content. Fast delivery of what the shift needs is difficult, but not impossible.
In 2022, it will be increasingly important to establish credibility and norms, provide unspoken desires, reawaken interest among readers, and boost sales through innovative advertising approaches. We've always known that great writing brings in the crowds, and now more than ever we need to put the reader first in order to revitalize the magazine publishing sector.
Magplus enables producers and distributors to reach customers directly on their mobile devices. Create mobile applications that can be downloaded from the Apple App Store, Google Play, and the Amazon Appstore with the help of our bespoke app creation tools. The complete procedure of developing and publishing your app to the relevant app stores will be handled by our service.
Magazine apps have a lot of potential, but they're often too complicated and expensive to be worth it. If you have a PDF ready for publication, you can use our PDF to HTML converter to turn it into a mobile- and desktop-friendly, completely responsive website.